Hope you have been staying safe during the past 2 months. It looks like things will start to open back up in stages and at some point things will be hopefully back to normal.  Rest assured Yogi and I are here to help if you and your family need to make a move and we have the tools and systems in place for both buyers and sellers for proper marketing of our listings, getting buyers to view the properties, as well as ourselves to keep everyone safe.
I thought you would like an update on what is happening out there in the Waterloo Region Real Estate Market, so here are the stats for April.
There were 227 residential homes sold through the Multiple Listing System in April, a decrease of 63.6 per cent compared to the same month last year, and the lowest number of sales in a single month since December 2008.
I think it goes without saying the current pandemic has had a major impact on the number of sales we would normally see in April, with everyone doing their part to flatten the curve and doing their best to self-isolate, the buying and selling of homes have been greatly reduced.
Total residential sales in April included 145 detached homes (down 63.3 per cent), and 22 condominium apartments (down 71.1 per cent). Sales also included 44 townhouses (down 61.1 per cent) and 16 semi-detached homes (down 60 per cent).
The average sale price of all residential properties sold in April increased 7.3 per cent to $568,738 compared to the same month last year, while detached homes sold for an average price of $657,042 an increase of 7.3 per cent. During this same period, the average sale price for an apartment-style condominium was $367,230 for an increase of 8.1 per cent. Townhomes and semis sold for an average of $406,463 (up 0.4 per cent) and $491,816 (up 13.3 per cent) respectively.
The median price of all residential properties sold in April increased by 7.1 per cent to $525,000 and the median price of a detached home during the same period increased 6.3 per cent to $605,000.
There were 417 new listings added to the MLS® System in KW and area last month, a decrease of 54.8 per cent compared to April of 2019, far fewer than the previous 10-year average of 937 listings in April.
The total number of homes available for sale in active status at the end of April was 571, a decrease of 36.6 per cent compared to April of last year.
The number of Months Supply (also known as absorption rate) continues to be very low at just 1.2 months for the month of April, 36.8 per cent below the same period last year. The previous ten-year average supply of homes for April was 2.95 months, and in the past 5 years, the average supply for April was 2.12 months.
I am confident that despite the current pandemic, the slowdown in housing sales will be temporary.  We are still in a strong sellers' market and with buyers competing for a scare number of listings, now is still a great time to buy.  Now for the first time in a long time, April saw some balance with a sales-to-new-listings ratio of 54 percent – well within the balanced threshold. I have talked to some buyers expecting homes to sell at greatly reduced amounts, and frankly, that's simply not the case. Home values have remained stable which I expect will continue into 2020.
The average days to sell in April was 19 days, compared to 21 days in April 2019.
Historical Sales By Property Type  
Months Supply of Homes for Sale 
Historical Median Sales Price – By Property Type 
Historical Average Sales Price – By Property Type 
Historical Sales – By Price Range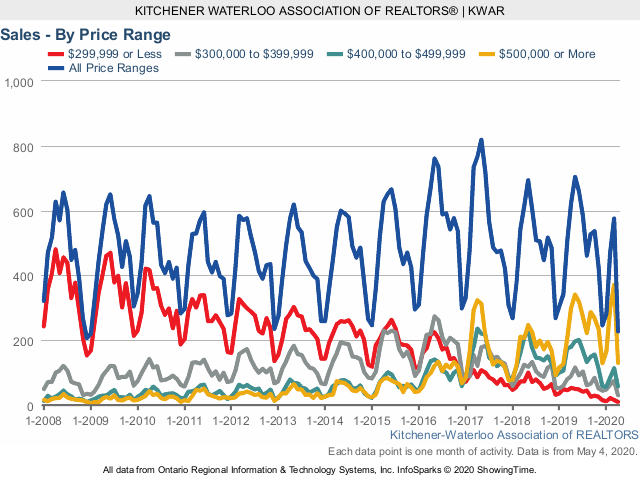 If you have any questions or concerns at all, give me a call or text at 519-497-4646 or shoot me an email to kevinbaker@kwhometeam.ca . Stay healty and stay safe!
Have a great week!
Kevin
May 5, 2020 | Categories: Buyers, Local Kitchener Waterloo, Random thoughts, Sellers, Uncategorized | Tags: activa, advertising, appraisal, arrow, assessment, August, backyard, Bank of Canada, banking practices, basketball, bauer, bee's, beechwood, being social, bird droppings, blogging, board of education, brokerage, cambridge, canadian, carbon monoxide, chicopee, cibc, city center, city centre, closing costs, cmhc, commission, condo, condo buying, condo for sale, condo market, condo prices, condo sales, condo values, condos, corona, crafts, district, downsizing, downtown, due diligence, elmira, exclusive, facebook, fall, fall market, fear, february, festival, for sale, forest hill, free home evaluation, fun fact, fun stuff to do., garment, goal setting, government, green homes, guelph, home, home buying, home for sale, home inspection, home maintenance, home ownership, home price, home prices, home sales, home selling, home staging, home value, home values, homes, homes for sale, hornets, house, house for sale, house prices, house sales, house value, houses for sale, hst, hydro, interest rate, investment, january, june, kaufman, kevin baker, kitchen cabinets, kitchener, Kitchener waterloo, land transfer tax, landlord, laurelwood, laurentian, lawyer, lawyers, lexington, licensing, loft, lofts, mansion, march, market update, market value, marketing, may, mls, mortage rates, mortgage, Mortgage News, Mortgage Rates, mortgages, networking, new construction, newspaper, online advertising, ontario, open house, open houses, opportunity, options for homes, painting, pioneer park, price, prices, pricing your home, private, privately, rates, rbc, real estate, real estate agent, real estate investing, real estate lawyer, real estate market, real estate team, real estate update, real estate values, realtor, realty, red, region, Remax, rental, sale, sale price, sales, sales representative, saving money, selling your home, september, stanley park, summer, Survivor, tanglewood, tax credit, td canada trust, teamwork, tech savvy, to do list, toronto, townhome, townhouse, transit, union station, virus, waterloo, waterloo ontario, wellesley, winter market, winter sales | Leave a comment
---
---
---
---
---
---
---
---
---
---
---
---
---
---
---
---
---
---
---
---
---