Covid-19 Update for Kitchener Waterloo Real Estate Market March 22-28
I hope you and your family are staying safe and home isolating during these unique and trying times. I am postive that we will come through this stronger and hopefully not take for granted that with friends or dinners out with the family.
I have had several clients and friends reach out to me on what is happening in our current real estate market, so i thought i would put together a couple of brief slides to show you what is currently happening. With everyone being asked to stay home obviously the market has seen slowing of showing activity for homes that are currently on the market. We have also seen a slow down of new listings that have hit the Mls system for Waterloo region.
In the past 10-14 days the showings have dropped off considerably which would be expected given what is happening.  Now does that mean that homes are not selling?  No, that is not true.. Homes are selling but things are taking a little bit longer than usual and not the "norm" that we have seen over the past 5 years.  There are still people that have bought a home prior to this all happening and need to sell their existing home. There are also people that have sold their home and need to buy their next one.
We are still seeing subdued showing activity and have taken strong measures to help both buyers and sellers stay safe when an in person showing is necessary.  Buyers are also using current technology such as virtural tours and facetime walk throughts etc. Our first priority is to make sure that our clients and ourselves are staying healthy and safe.
Below is a graph of last weeks activity on our Waterloo Region Real Estate Board.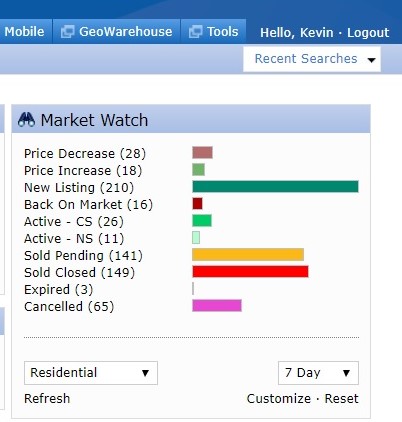 You can see that there were 141 sales last week, which means homes that had offers on them firmed up or had offers come in that had no conditions. There are 37 homes that received offers with conditions that were accepted and 210 new listings hit the market. The closed sales are homes that were sold firm in the past months that closed and the buyers took posession. There were also 65 cancelations which are sellers that may have taken them off the market for now due to lack of activity or Covid 19.
I hope that you find this info helpful to answer any questions or concerns that you are been thinking about during your time at home. As always feel free to reach via text or phone at 519-497-4646, messanger on facebook or we can talk on skype etc. We are not doing an in person meetings during this time and we also utitlze electionic signatures for paperwork that is needed to be completed or for listing a home etc.
It may not be "business as usual" but as an essential service we are open for business. Luckily we can do most of our business from home and online when needed to do so. We are here to help.
Have a great weekend and stay safe.
Kevin
This entry was posted on March 28, 2020 by kevinbakerrealestate. It was filed under Buyers, Local Kitchener Waterloo, Random thoughts, Sellers, Uncategorized and was tagged with assessment, brokerage, cambridge, canadian, city center, commission, condo, condos, corona, covid, covid-19, crafts, downsizing, downtown, exclusive, fall, fear, february, for sale, fun fact, goal setting, government, home buying, home ownership, home selling, home values, homes, house, houses for sale, kitchener, loft, lofts, mansion, march, market update, market value, marketing, mls, mortgage, Mortgage Rates, mortgages, networking, new construction, newspaper, online advertising, ontario, painting, price, prices, rates, real estate, real estate investing, real estate market, realtor, realty, red, region, Remax, rental, sale, sales, saving money, selling your home, september, summer, tax credit, teamwork, to do list, toronto, transit, twin city, virus, waterloo, waterloo region.